Back to publications
2.3 a damper support with a flexible ring ("Allison" ring)
---
Damper supports with flexible rings (Fig.5, Fig A4.1) are mostly used in military engines for maneuvrable planes with high overloadings.
Fig. 5 A damper support with a flexible ring.
The main part of this support is a thin-wall ring (Fig. 6) installed into a clearance between the bearing outer ring and the casing.
Fig. 6 A flexible ring with pedestals.
Dimensions D1 and D2 are determined by standards. b1 is
defined by standart, d, s -are determined by analysis and test,
d - cutting mill diameter.
The ring has center pedestals staggered on outer and inner cylinder of the ring. The center pedestals together with other elements form chambers, where is the oil supplied. Number of the center pedestals and their dimensions are regulated by a standard. Usually the pedestals height is 0.15 to 0.3 mm which limits maximal bending of the ring.
The bearing radial load bends each of the ring parts located between the pedestals. Oil is pressed from chamber to chamber through tip clearances and small holes in the ring, thus producing the damping effect.
Examples of engine insrtalled ring dimensions are given in table below.
Table 1
?

Engine

D1

mm

D2

mm

Number of pedestals

b1

mm

d

mm

d

mm

Material

1

AE-24

96

93

6

6

0.12

30

60C2A

2

AE-25

137

134

10

6

0.15

30

60C2C

3

OA3-117

136

133.2

12

5

0.2

30

40XHMA
Sometimes the support flexibility is increased by settling of two co-axial rings (Fig. 7).
Fig. 7 A damper support with two rings
This type of supports has the following advantages: small size and mass; linear stiffness characteristics (Fig.8); rotor centring; availability of a standard which permits to determine the ring dimensions.
The support shortcomings are: high requirements to manufacturing accuracy; lack of mathematical models of the support damping, which leads to necessity of engine test facility development.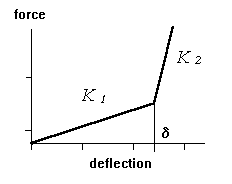 Fig 8. Stiffness of a flexible ring support.
K1 - ring stiffness; K2 - casing stiffness